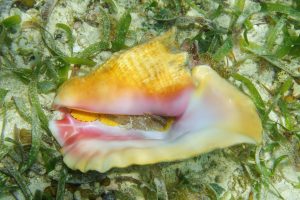 If you are lucky enough to be born in Key West, Florida, you are considered a "Conch" (pronounced "konk") or a native to this beautiful island.  At one time, the blue waters of the Florida Keys were littered with the queen conch (Strombus gigas).   Over-harvesting in the 1970's prompted the Florida Legislature to place a moratorium on commercial harvesting and ultimately banned harvesting of the mollusk all together in 1985.
Queen conch is still widely served at restaurants throughout the Florida Keys as conch fritters, conch chowder, cracked conch, and conch ceviche, as well as other delicious dishes.  Many people don't realize they are likely eating imported conch from the Bahamas or surrounding Caribbean islands where the species is still prevalent and legal to harvest and export.
Since the overall ban in Florida, the queen conch has made a comeback and it is commonly seen when snorkeling our shallow waters.  With lobster mini-season quickly approaching the last Wednesday and Thursday in July, locals and visitors alike will be in search of the Florida spiny lobster.  While on the hunt for these tasty treats, you may come across a queen conch shell nestled in the turtle grass.  If there is a live animal in the shell, Florida Administrative Code 68B-16.004 prohibits the harvesting of a queen conch; however, few realize that this rule does NOT prohibit you from keeping a vacant, un-tampered shell.  Please see the Rule on harvesting a queen conch shell below:
68B-16.004 Harvest of Queen Conch Prohibited:
(1) A person may not harvest, kill, molest, harm or mutilate a queen conch within or without Florida Waters, or possess, transport or land a queen conch regardless of where harvested.
(2) A person may harvest a queen conch shell if the shell does not contain a live queen conch at the time of harvest and a live queen conch is not killed, mutilated, or removed from the shell prior to the harvest of the shell. A person may not possess within or without Florida Waters a queen conch shell that has an off-center hole larger than 1/16 inch in diameter through its spire.
(3) The presence of queen conch aboard a vessel in or on Florida Waters, while one or more persons from the vessel are overboard, constitutes prima facie evidence that the queen conch was harvested from Florida Waters in violation of this chapter.
(4) Rules 68B-16.004 and 68B-16.0041, F.A.C. will not be construed to prohibit the unintentional capture of a queen conch in the course of another lawful fishing activity. A person who unintentionally catches a queen conch shall immediately return the queen conch to the water unharmed.
Keep these and other marine regulations in mind while snorkeling our pristine waters.  A violation, even one that is unintentional, can result in you being arrested and charged with a crime.  The experienced Key West attorneys at the Law Office of Robertson & Hunter can help you with any violation of a marine regulation.  Call our office for a consultation today.